SERVICES
Since our foundation in 2012, LeonStride has grown into being a pioneer in Cloud Applications, Enterprise Mobility & Product Development.
Our
Approach
Understand requirements: We get a thorough understanding of the project requirement and its scope to visualize the best possible solution for our prospects. After initial communication, we shift to dedicated threads for getting the details aboard.
01. Plan
After getting all the specifications about the project, we have internal and client meetings to decide how we can execute the development efficiently and plan to allocate the best available resources to the onboarding clients.
02. Develop
We begin the development as our web or mobile application developers start coding for your project after the first phase is complete. We have daily or weekly review calls to keep our clients updated about the on-going developments of the project and make adjustable changes if the client asks.
03. Test
We test all the possible outcomes on different scenarios that your application / software might have from the end users point of view. Our testing phase will make your product robust and scalable to deal with all the possible challenges.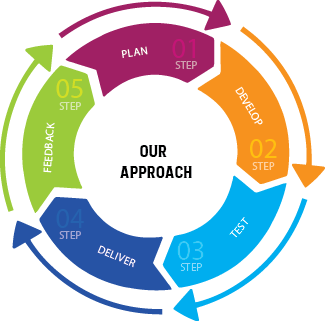 04. Deliver
We deliver all the assets and properties of the project as discussed. We provide demonstration from our end to show how things work, if a project requires.
05. Feedback
A successful project and a satisfied client is what counts the most, so we request our clients to test the applications and give their honest feedback about their experience doing business with us. These insights allow us to solve all the client problems and improve ourselves after every feedback.